Thanksgiving Day
November 26th, 2020
8:00am to 11:00am 5K Run/Walk
Race Description
Welcome to the 20th Annual Greensboro Gobbler.  Registration is now open and we encourage you to sign up soon.  There is NO race day registration. We are excited to continue this race in downtown Greensboro for the 3rd year. Come join us at Center City Park on Thanksgiving morning!
This event includes the popular 5K that is open to all runners and walkers.
This year will look a little bit different with our COVID-19 restrictions in place. Participants will take off in waves of no more than 50 runners every 30 minutes from 7:30am to 12pm. Registration is capped at 500 total participants!
Additional Event Information Below
Race Morning
NO Late Packet Pickup – All bibs must be picked up at Omega Sports prior to race day
7:00 AM: 1st Wave 5K Starts
11:30 AM: Final Wave Starts
NO Awards Ceremony – all awards will be mailed
The race is located at Center City Park in Greensboro, NC. Center City Park, located in the heart of downtown Greensboro, fills the block between North Elm and North Davie Streets and is bordered on the south by West Friendly Avenue and on the north by the Renaissance Tower office building.The Park's main entrance is at

 

200 N Elm St, Greensboro, NC 27401
Special 2020 COVID-19 Guidelines
Pre Race
No person-to-person packet pickup or medal distribution.  Packets will be pre-bagged and numbered with athlete's race bib, shirt, medal, safety pins, and goodies. Athletes will pick up their packets on Tuesday or Wednesday at Omega sports.
There will be no day off registration. Online Registration will close Thursday at 11:59 PM
A signed waiver is required to participate.  The waiver will state that they have not exhibited any symptoms indicated on this CDC site: https://www.cdc.gov/coronavirus/2019-ncov/symptoms-testing/sym ptoms.html
Registrants are required to select specific wave arrival and start times, set up in our registration system at 30-minute intervals. Any runner that does not choose a start time will be assigned a start time.
Race Day
Social distancing of at least 6ft will be required at all times except with members of the same household.
We will utilize a waved start at the rate of 50 people per 30 minutes for the 5K to ensure that all distancing requirements are met. This will ensure that we never have more than 50 people in the gathering areas at any point in time. The race will be capped at 500 runners.
Runners should not come to or approach the entrance until their scheduled wave start time. There will be corral points for runners to be in until it is their time to start
Runners are the only ones allowed to enter the race area, no friends or family.
There will be no water stops, athletes will be required to provide their own hydration.
Athletes will be required to wear a face mask covering their nose and mouth prior to and following the run. Athletes not following this rule are subject to being disqualified from the event.
No spectators will be allowed. All Racewire employees and volunteers will wear masks.
There will be no volunteers on course, only turn signs and police directing athletes where necessary.
Cones will be placed on the street to separate runners going out and runners coming back. Runners will be directed into city center park for the finish. This will ensure finishers wont be near the start of another wave.
Post Race
All results will be posted online. There will be no award ceremony after the race, awards will be mailed out or available for pick up at a later date and location.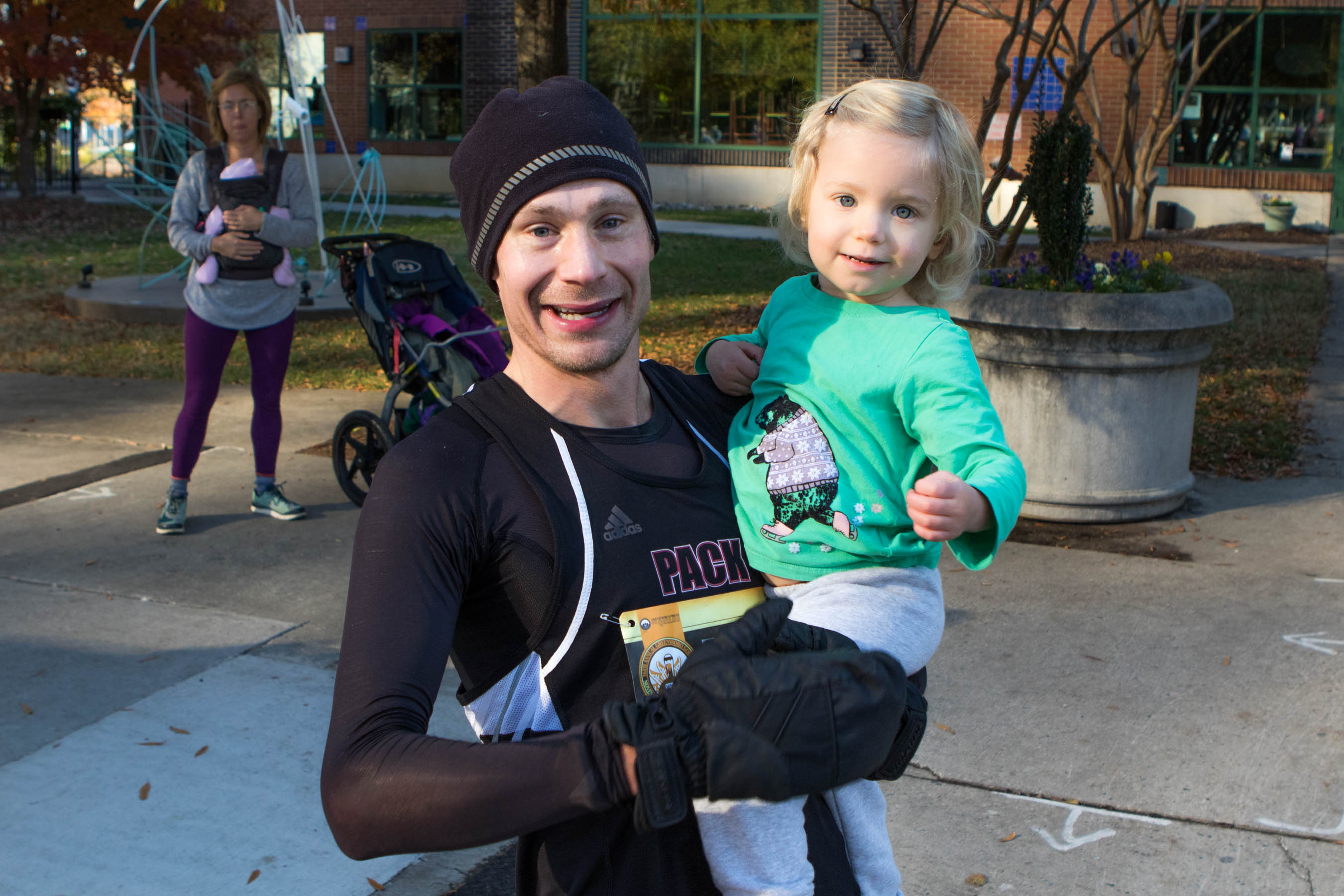 Bib Number Pickup
Tuesday 11/24 from 11:00 AM – 6:00 PM
Wednesday 11/25 from 11:00 AM – 6:00 PM

Omega Sports, 2431 Battleground Ave, Greensboro, NC 2740
We are very excited to not only raise money for Greensboro Urban Ministries but we are also asking for your food donations. Please bring food donations to packet pickup .  We will have collection boxes waiting to be filled.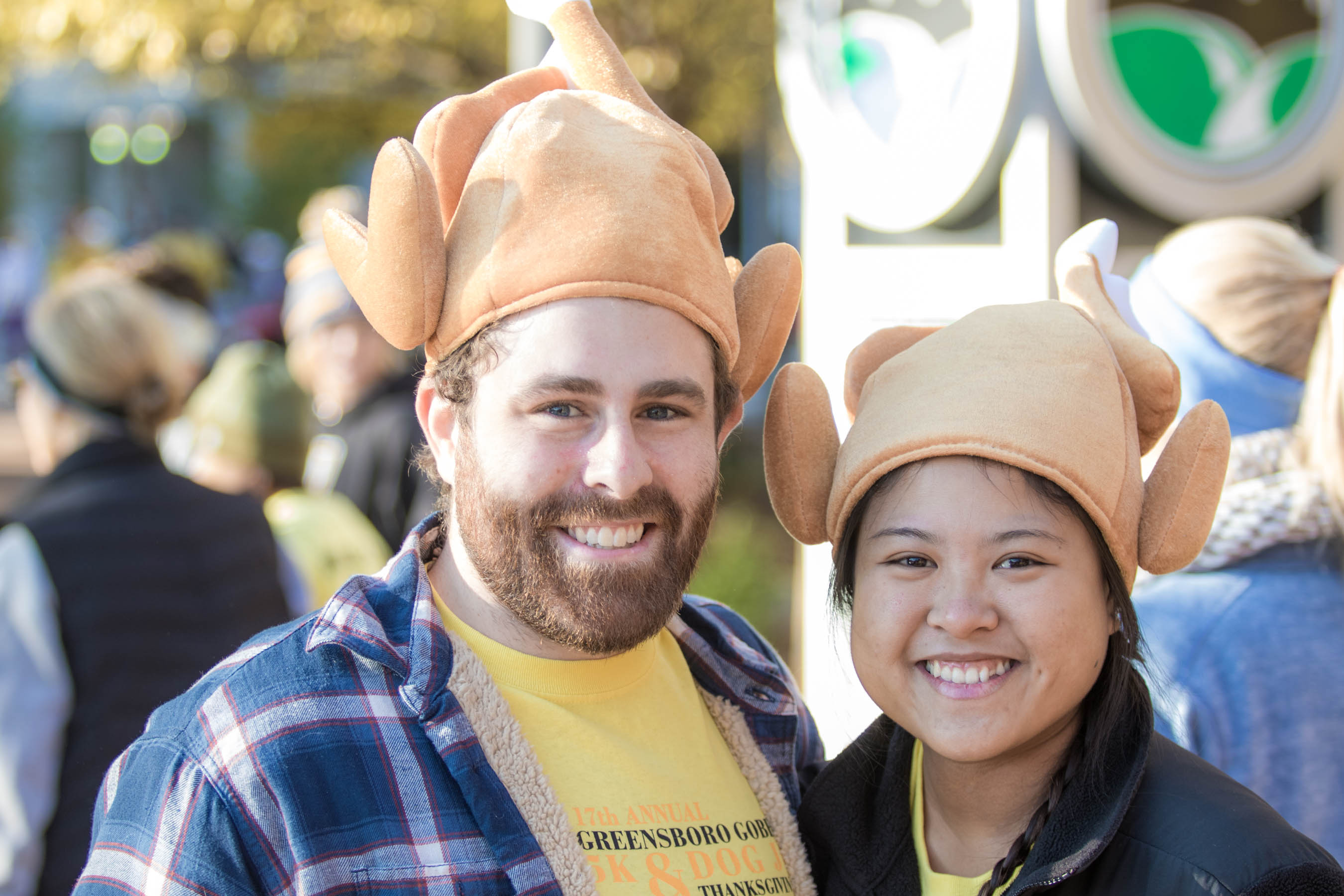 Registration Pricing
5K
Note: Registration will only be available online before the race. There is no 1 mile event this year. Due to the short timeline for registration and our participant restrictions, price will remain at $30 for all registrations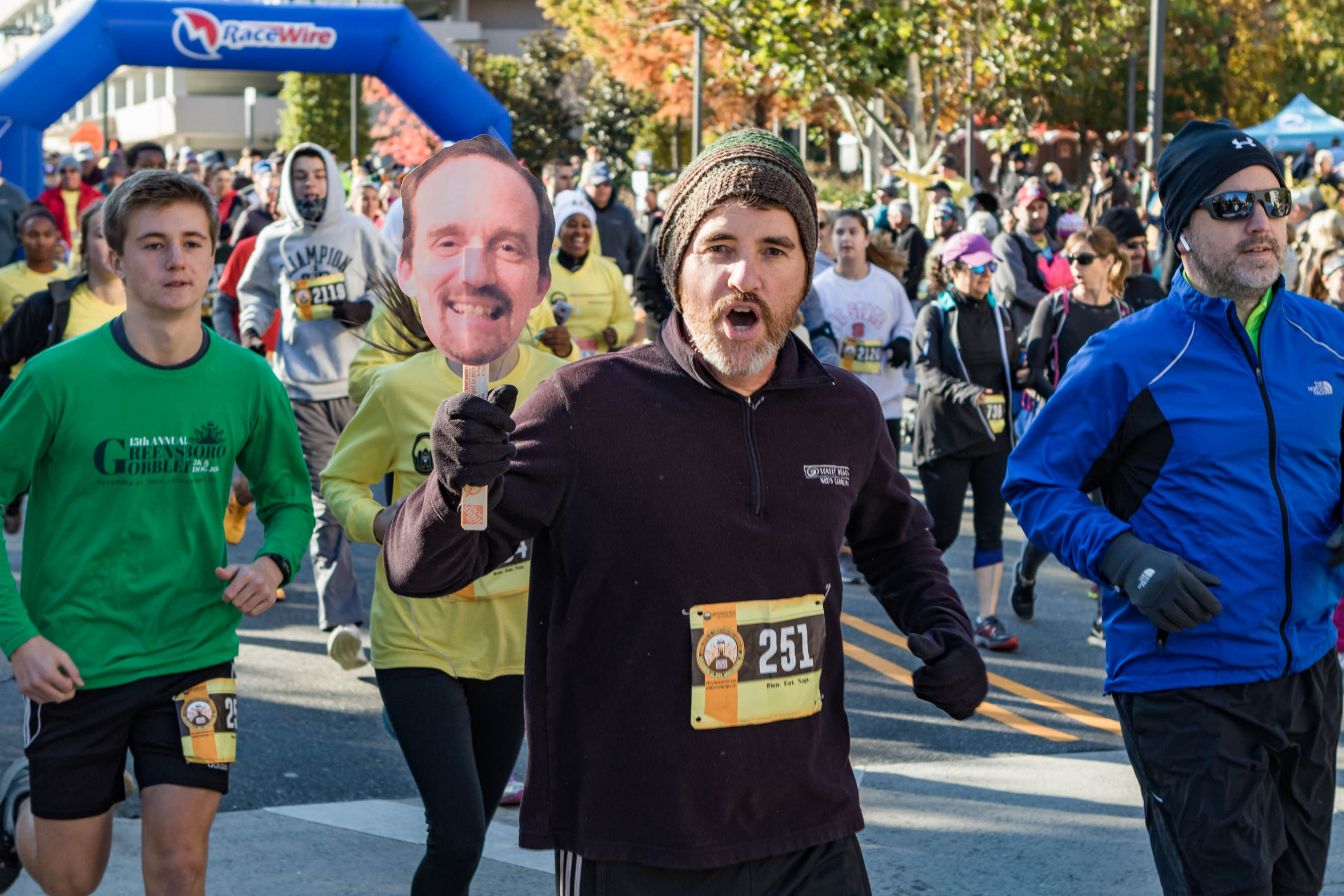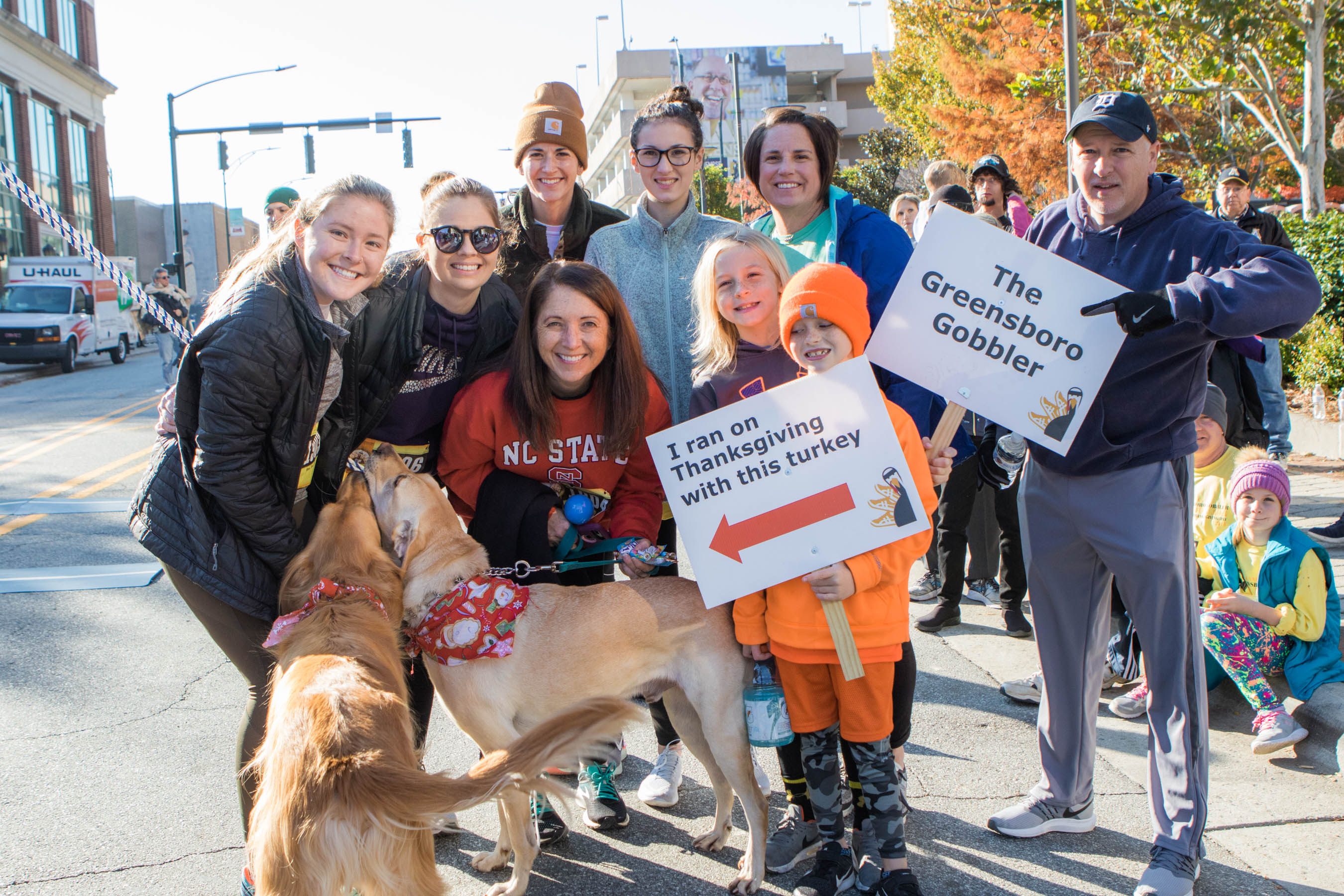 T-Shirts
Custom Greensboro Gobbler Long Sleeve T-Shirt
Unisex Sizes (Youth S – Adult XXL available)
Available as a $5 add-on with your registration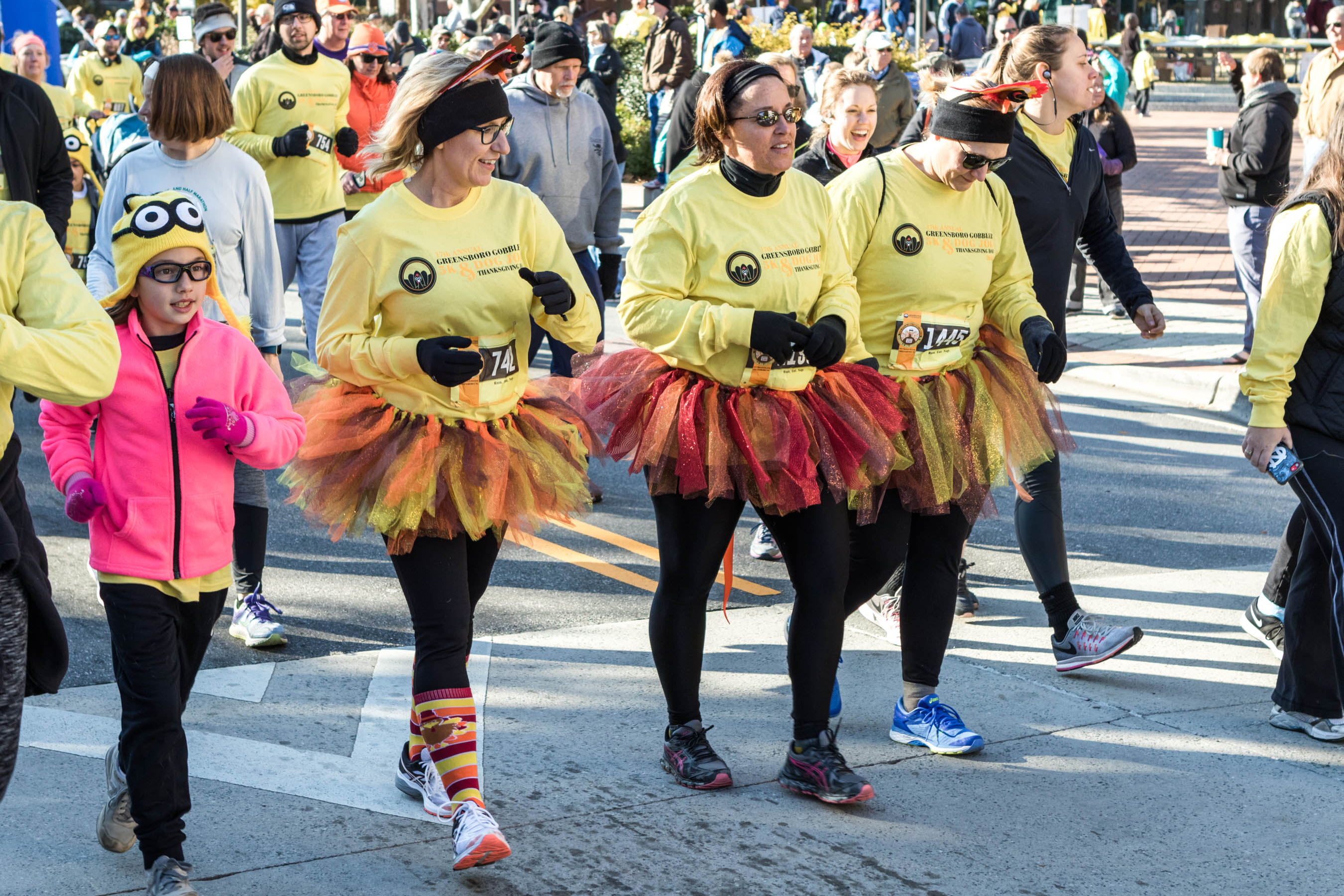 Timing/Awards
This race will be chip timed with disposable bib-chips, We ask all athletes to wear their race number on the front and visible. All awards will be based on chip time.
Awards will be mailed after the event, to the following categories:

5k – Top 3 Overall Male/Female
5k – Top 3 In Each Age Group
Age Groups: 0-9, 10-14, 15-19, 20-24, 25-29, 30-34, 35-39, 40-44, 45-49, 50-54, 55-59, 60-64, 65-69, 70+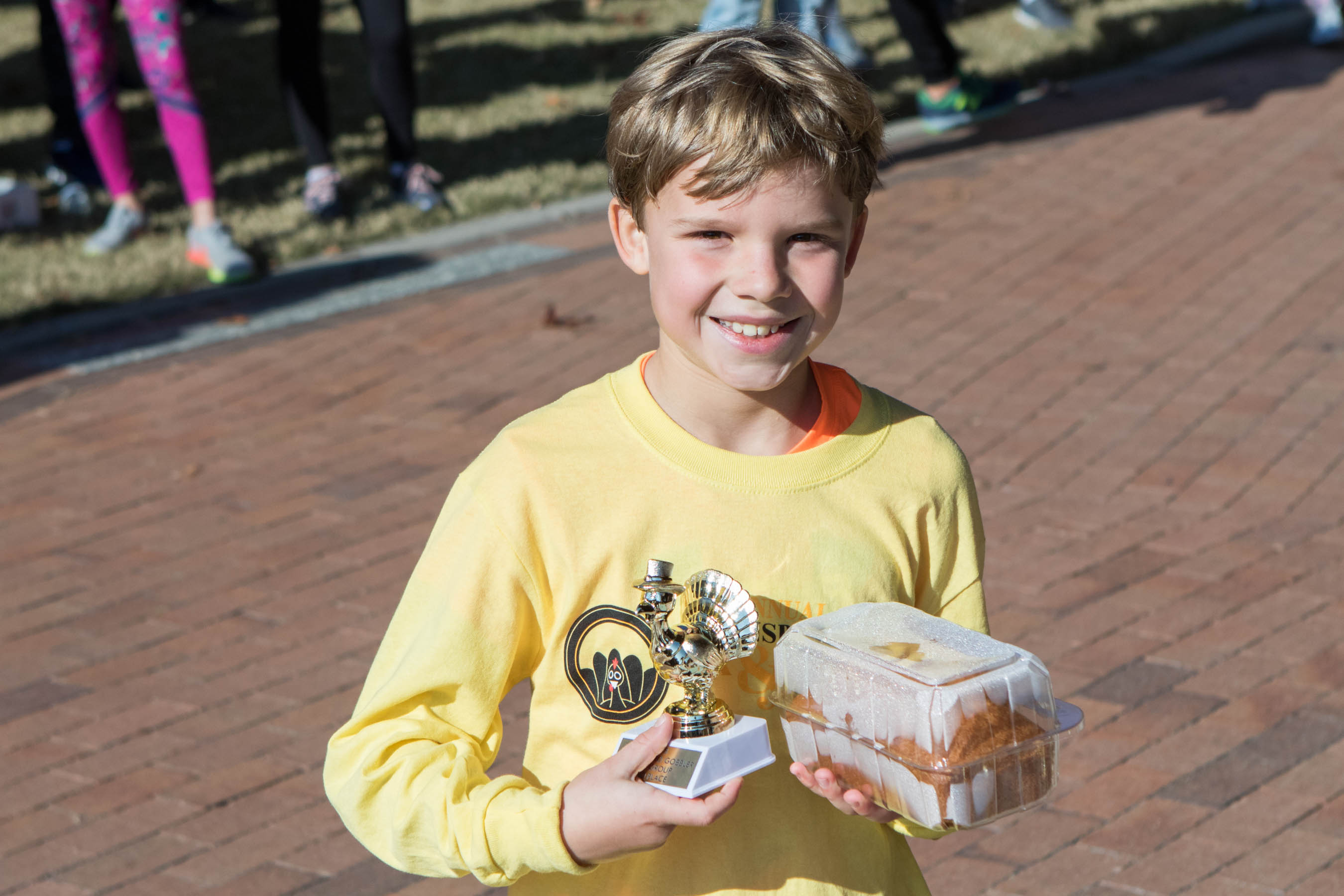 2020 Greensboro Gobbler Course
Center City Park
Race Location: Center City Park
Greene Street Parking Deck
Greene Street Parking Deck
Davie Street Parking Deck
Davie Street Parking Deck
Bellemeade Street Parking Deck
Bellemeade Street Parking Deck
Church Street Parking Deck
Church Street Parking Deck
Greene Street Deck
Parking Garage
211 S Greene St
(336) 373-2113
Davie Street Parking
Parking Garage
109 E Market St
(336) 373-2136
Bellemeade Street Deck
Parking Garage
220 N Greene St
Church Street Deck
Parking Garage
215 N Church St
Results will be updated during the race.
Your results should appear online in approximately a few minutes after you cross the finish line.
2019 Results >> 2019 Results
2018 Results >> 2018 Results
2017 Results >> 2017 Results
2016 Results >> 2016 Results
2015 Results >> 2015 Results
2014 Results >> 2014 Results
2013 Results >> 2013 Results
Race Photos
2019 Pictures
2018 Pictures
2017 Pictures
2016 Pictures
2015 Pictures
2014 Pictures
2013 Pictures
2012 Pictures
2011 Pictures
Follow us on Facebook and post your race photos!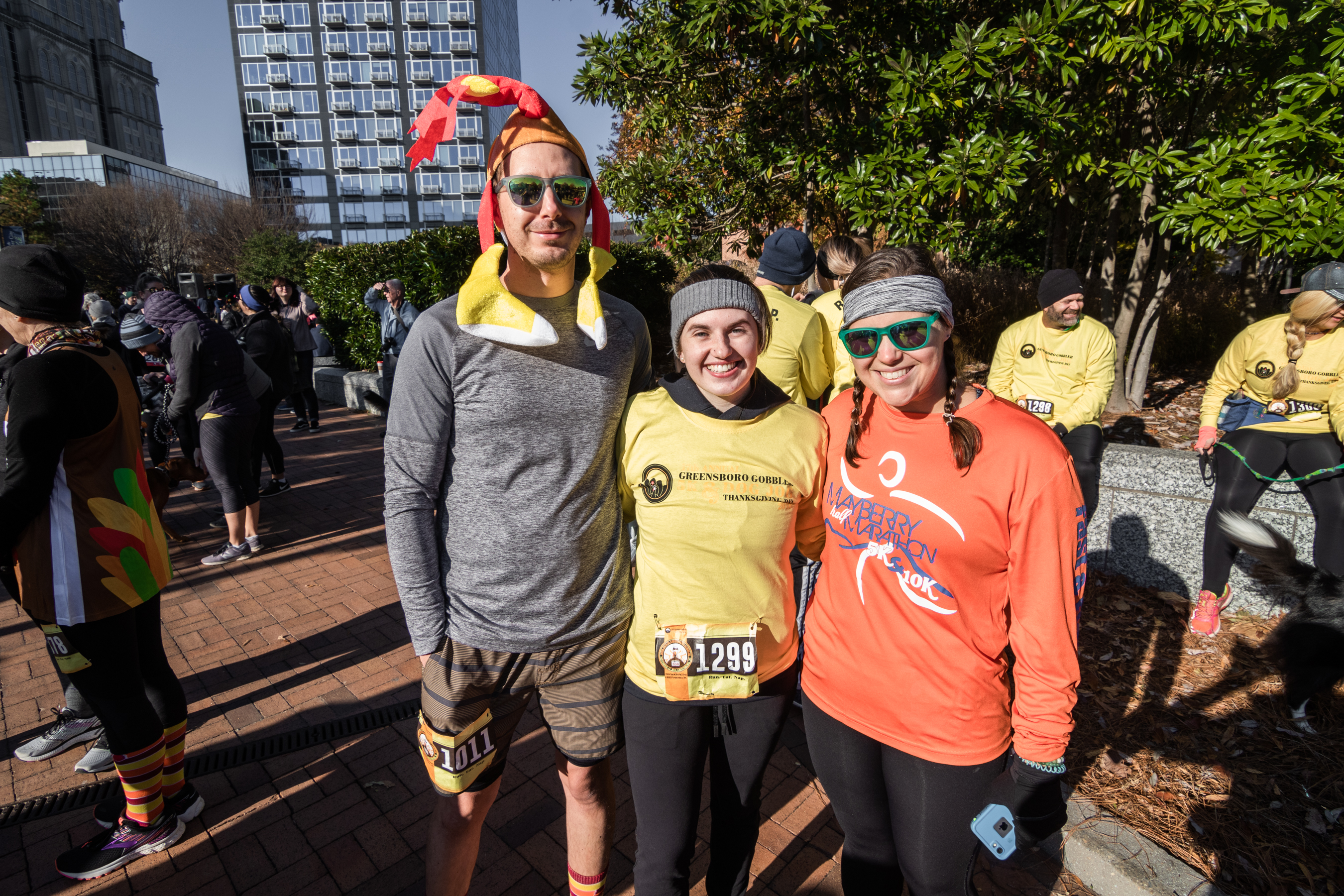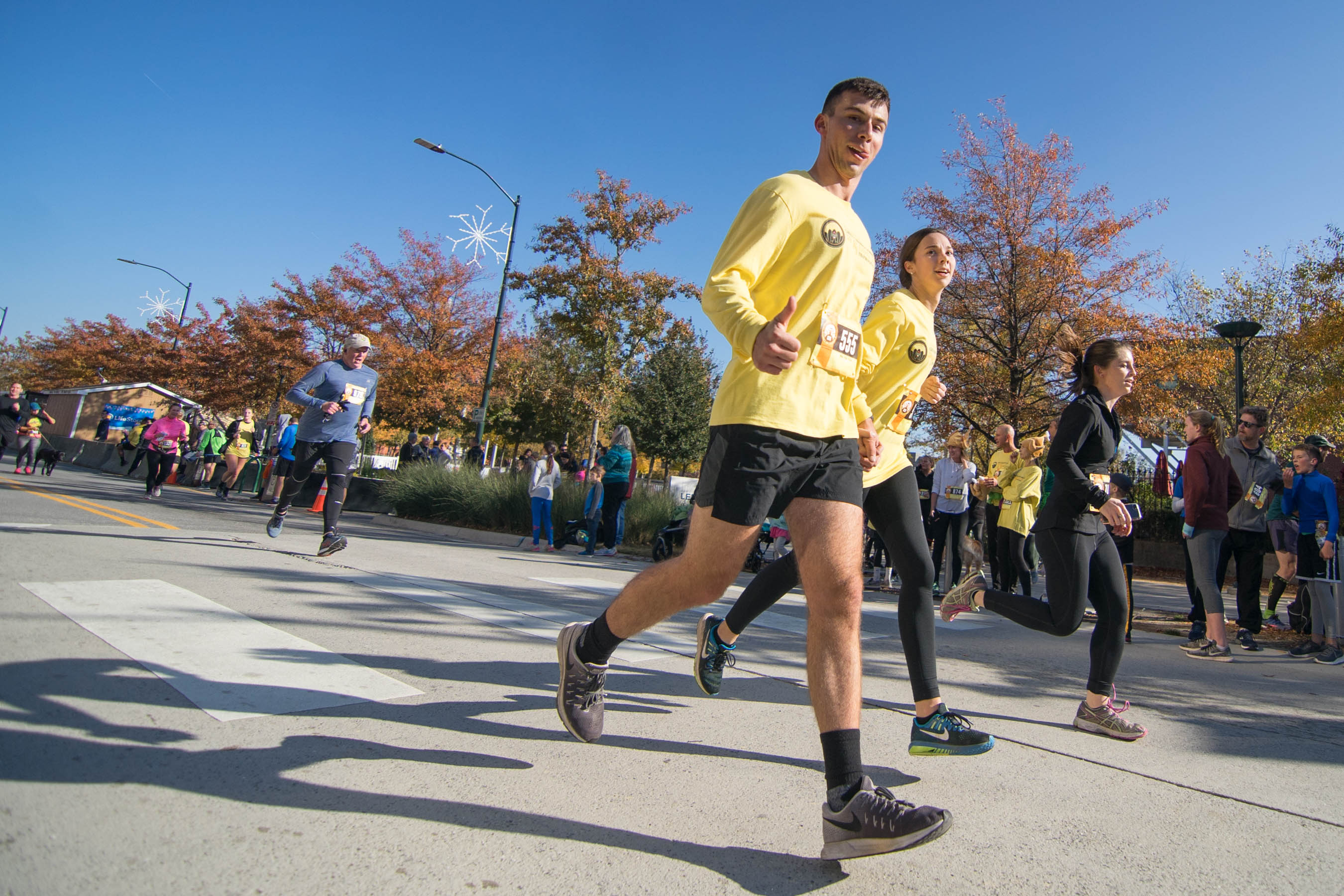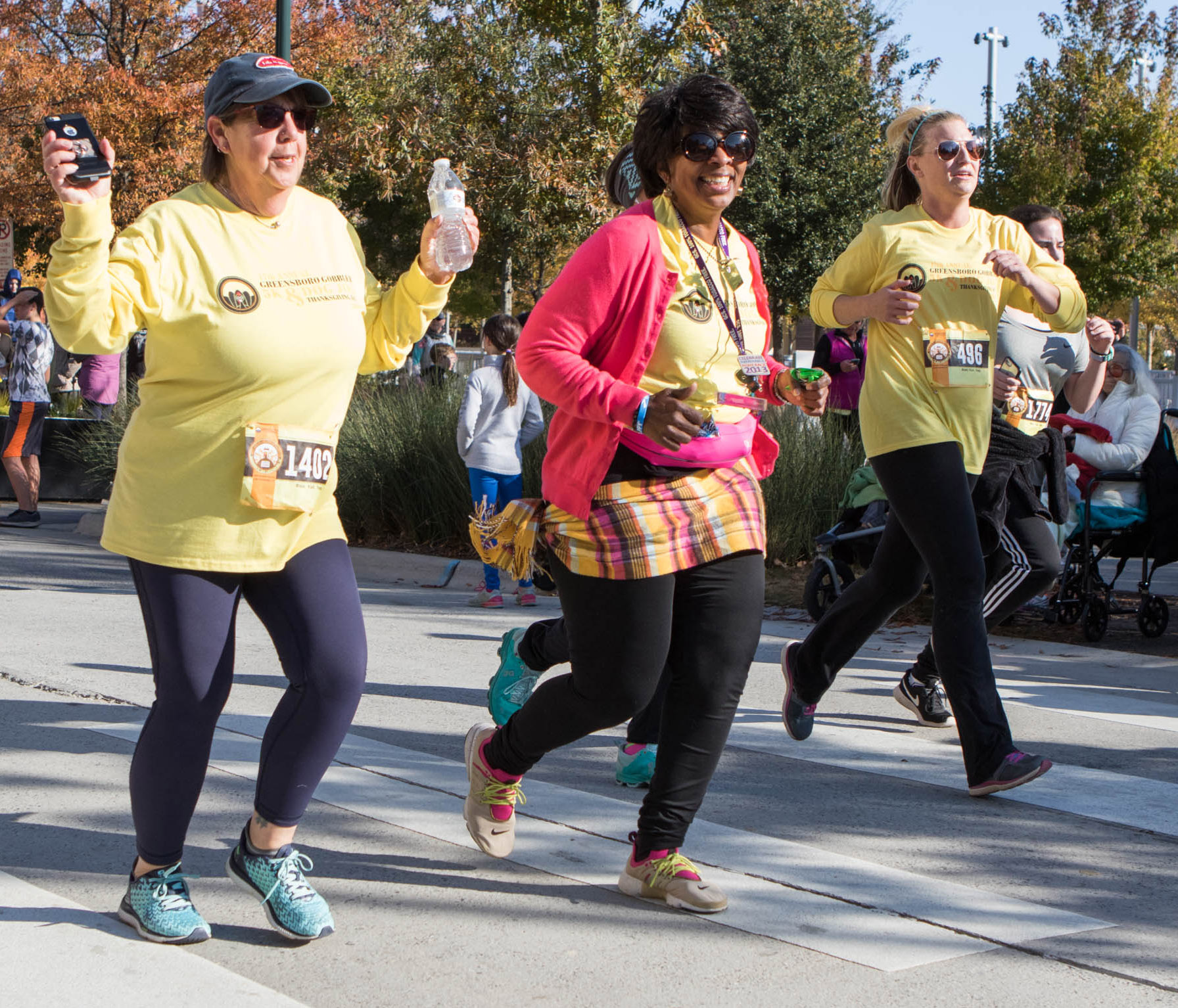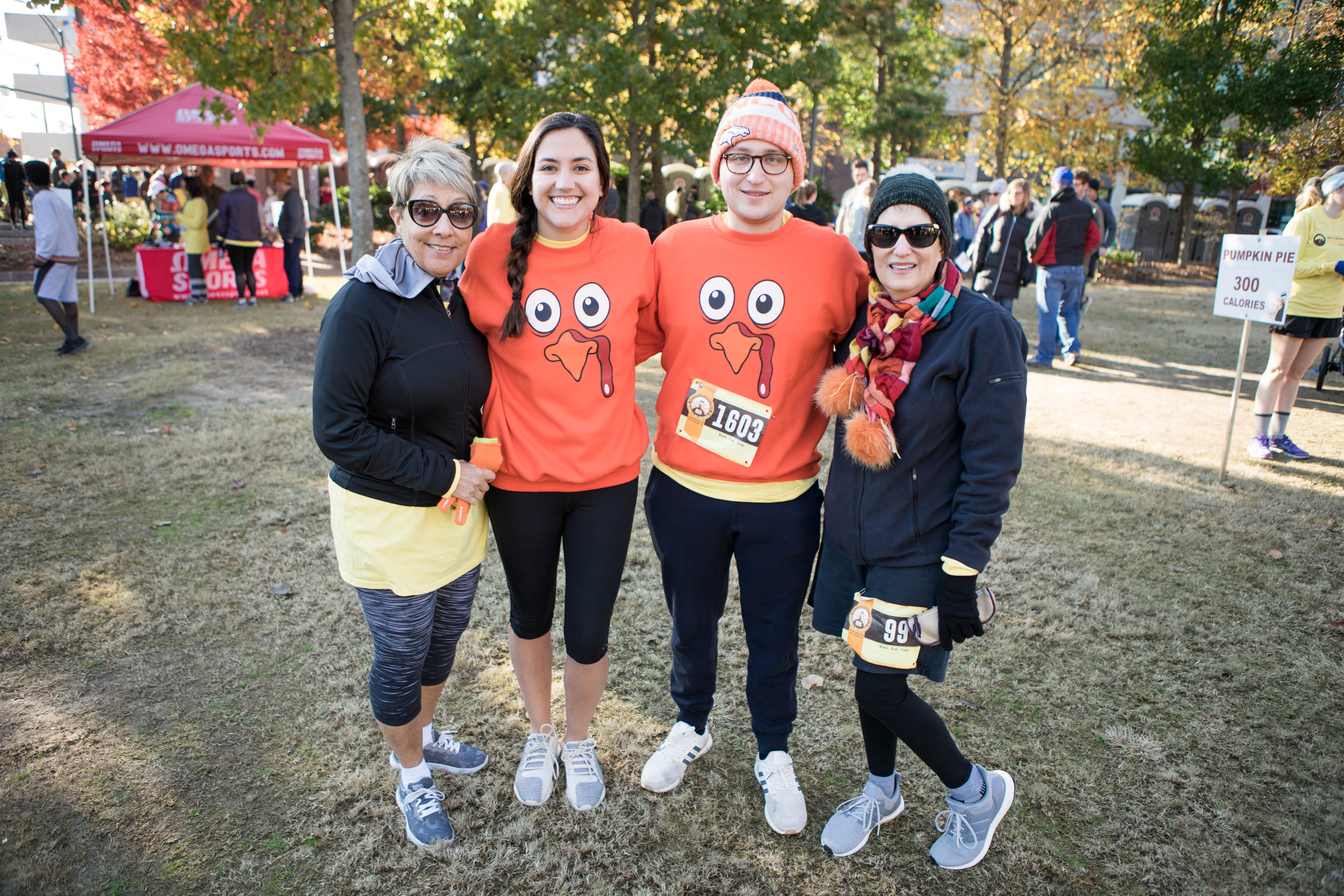 Race Rules and Cancellation Policy
Sorry, but for safety reasons, we do not allow bicycles, inline skates or any means of transportation other than running, walking or wheelchairs. Running baby strollers are allowed but must have a minimum of 6″ wheels. Race Director reserves the right to reject any entry or to remove any participant from the race course without explanation.
 In the event the race should be canceled for reasons beyond the control of the Race Director or Race Committee (inclement weather or unsafe weather conditions; local, state or national emergency), refunds will not be made, but race packets, including race shirts, will be available at a location to be determined.